Today I would like to bring you Simon and Garfunkel greatest hits all in one place. I will do the usual list of their hit singles and albums. I will also have a look at one of the biggest selling albums of all time which was released in 1970 so it just made it on this site. First, though I will give you a bit of the history of how Paul Simon and Art Garfunkel got together.
Simon And Garfunkel
Art Garfunkel (born in New York on the 5th November 1942) and Paul Simon ( born in Newark, New Jersey on 13th October 1941) were childhood friends. Art's parents who were both singers had 2 tape recorders, Paul would go round to their house and fool around with the tape machines with Art.
When they were about 13 they started taking rehearsing seriously and also started writing their own songs. They tried taking them round the recording companies in Manhattan. After 3 years of trying to get these companies to take their songs they were overheard cutting a demo of one of their songs by Sid Prosen(a minor wheeler dealer in the New York record industry).
He took them to a small label called Big Records, in the November of 1957 they released a song called Hey! Schoolgirl under the names of Tom and Jerry. The song began to sell and got as high as 54 in the charts. This turned out to be like so many other teenage artists a one hit wonder. They released several singles the following year but they all flopped.
They decided to go back to their studies, Paul Simon went to Brooklyn Law School and Art Garfunkel studied art in Columbia. The musical climate was changing by now(1963) and folk music was booming with the likes of Bob Dylan and Peter, Paul and Mary.
Paul was working for a music publishing house, peddling the companies songs around the record labels. At night, he would usually play with Art Garfunkel at coffee houses like Folk City and Cafe Wha. Paul had written a song about a friend who had died at a demonstration in Mississippi called He Was My Brother. This was eventually released as a single under the name Paul Kane.
They got their first break when Paul Simon used his contacts in the record industry. Instead of selling his companies songs he asked producer Tom Wilson at Columbia if he would be interested in listening to them. He set up an audition and the sound engineer was Roy Halee, when they went back again they asked for Roy to be the sound engineer. He ended up working with them for most of their career, he even co-produced their 1981 live reunion album.
They recorded their first acoustic album for Columbia in 1964 called Wednesday Morning 3am. This consisted of a new recording of He Was My Brother, a song by Bob Dylan a couple of anti war songs by British writers and 5 of Paul's own songs. One of these songs was Sound Of Silence, which in time would turn out to be one of Paul Simon's most recorded compositions, it was covered by over a hundred other artists. The album and song made no impact however.
Paul Simon spent the summers of 1964 and 1965 touring in Europe, sometimes solo and sometimes with Art Garfunkel. Whilst he was in Europe a DJ in Boston had picked up on the album track Sound of Silence. It was pointed out to the people who ran Columbia records and they decided to release it as a single. As this was the era of folk-rock Tom Wilson the sound producer was told to add electric guitars, drums and bass to the acoustic sound.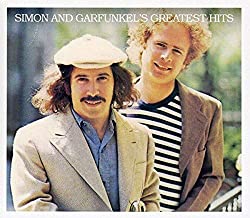 The plan worked and Sound Of Silence started climbing the US charts. Paul Simon was still touring in Europe and had no idea what was happening back home. He was in Denmark when someone showed him a copy of the American charts. He caught the next plane home, reunited with Art Garfunkel and toured large halls as the record reached number 1 at the end of 1965. The rest they say is history.
Simon And Garfunkel Greatest Hits – Singles
Here is a list of their singles, name of song first, year released and chart position reached here in the UK and also the US
The Sound Of Silence (1965) No.1 in the US
Homeward Bound (1966) (9) (5)
I Am A Rock (1966) (17) (3)
The Dangling Conversation (1966) No. 25 in the US
A Hazy Shade Of Winter (1966) No.13 in the US
At The Zoo (1967) No. 16 in the US
Fakin' It (1967) No. 23 in the US
Scarborough Fair/Canticle (1968) No. 11 in the US
Mrs Robinson (1968) (4) (1)
Mrs Robinson EP (1969) (9)
The Boxer (1969) (6) (7)
Bridge Over Troubled Waters (1970) (1) (1)
Cecilia (1970) No. 4 in the US
El Condor Pasa (if I Could) (1970) No. 18 in the US
America (1972) (25) (97)
For Emily, Whenever I May Find Her (live) (1972) No.53 in the US
My Little Town (1975) No. 9 in the US
Wonderful World (Art Garfunkel with James Taylor and Paul Simon) (1978) No. 17 in the US
Wake Up Little Suzie (1982) No. 27 in the US
A Hazy Shade Of Winter (1991) (30)
The Boxer (1992 re-release) (1975)
Simon And Garfunkel Greatest Hits – Albums
Simon and Garfunkel had 5 studio albums here they are. Album title first, year released and position reached in the UK and the US.
Wednesday Morning, 3 A.M. (1964) (24) (30)
Sounds Of Silence (1966) (13) (21)
Parsley, Sage, Rosemary and Thyme (1966) (13) (4)
Bookends (1968) (1) (1)
Bridge Over Troubled Water (1970) (1) (1)
They also had a live album which made it to number 6 in the UK and US in 1982, it was called The Concert In Central Park. It was recorded 19th September 1981.
They also had some greatest hits albums that made the chart.
Simon and Garfunkel's Greatest Hits (1972) (2) (5)
The Simon and Garfunkel Collection (1981) (4)
The Definitive Simon and Garfunkel (1992) (8)
The Best Of Simon and Garfunkel (1999) (145) (43)
Tales From New York: The Very Best Of Simon and Garfunkel (2000) (8)
The Essential (2003) (25) (27)
This album topped the charts in over 10 countries. Selling over 25 million copies. Here is the track list, remember this was the days of vinyl.
Side One
Bridge Over Troubled Water
El Condor Pasa (If I Could)
Cecilia
Keep The Customer Satisfied
So Long, Frank Lloyd Wright
Side Two
The Boxer

B

aby Driver

The Only Living Boy In New York
Why Don't You Write Me
Bye Bye Love (live recording from Ames, Iowa
Song For The Asking
I hope you enjoyed this look at Simon and Garfunkel greatest hits. If you have, leave a comment below. What are your memories of the duo?
If you get a minute could you please pop over to my Facebook Page and join us. I plan to build this page this year as I have more time on my hands since retiring.  I am trying to get people to share their favourite 70s music.  As you know we do not all like the same songs and it would be great to hear page members favourite 70s songs.  I hope to see you there soon.
Thanks For Visiting Today. Make sure you come back as I build the site, leave a comment below if there is any singer or group you think I should add to the site.
Frank
frank@musicofthe70s.co.uk