Welcome to this Thin Lizzy songs list. I will give a bit of Thin Lizzy's history. I will then add a list of their singles and albums plus a couple of their videos.
Thin Lizzy History
Thin Lizzy started with three members, Phil Lynott (born in Dublin on the 25th August 1951) , Brian Downey (born 27th January 1951) Hey! That's the same day as my sister was born. Coincidence eh! and Eric Bell (born 3rd September 1947).
The three-piece Thin Lizzy line up made their first appearance in April 1970 at Newbridge Eire, they soon became the top group in Ireland eclipsing all the other bands. In late 1970 whilst playing in an Irish dance hall they were seen by Frank Rogers, who signed them up to Decca Records with a 3-year deal.
In December 1970 they moved to London. They were bracketed in the progressive rock category and these types of bands didn't do many singles. It was late 1972 after the release of their first two albums Thin Lizzy(1971) and Shades Of Blue Orphanage that they released their first single.
Whiskey In The Jar was an updated arrangement of an old Irish folk song, with great electric guitar solos. It surprised everyone by breaking into the charts and reaching number 6. The song was so untypical of the rest of their music that it took them 3 years to be able to emerge from the shadow of Whiskey In The Jar.
In 1973, they released their third album Vagabonds Of The Western World, this was the last album to feature Eric Bell. They had still to make a breakthrough into the album chart with all their 3 albums to date and Eric Bell was very dispirited and left. Gary Moore was brought in and they undertook a tour of Germany with guitarists Andy Lee and John Cann.
In 1974 just as Downey and Lynott were on the verge of giving up themselves, they secured the services of guitarists Brian Robertson (born in Glasgow on the 12th September 1956) and Scott Gorham (born in Santa Monica, California on the 17th March1951). This was to be the dawn of a new era for Thin Lizzy.
The new Thin Lizzy line-ups big breakthrough came in 1976 with the release of the Jailbreak album and the single The Boys Are Back In Town.
Let's have a look at Thin Lizzy's discography.
Thin Lizzy Songs List – Singles
Below is a list of Thin Lizzy's singles. I will list song name, year released, chart position reached here in the UK and if applicable the US.
Whiskey In The Jar (1972) (6)
The Boys Are Back In Town (1976) (8) (12)
Jailbreak (1976) (31)
Cowboy Song (1976) No. 77 in the US
Don't Believe A Word (1976) (12)
Dancing In The Moonlight (It's Caught Me In Its Spotlight) (1977) (14)
Rosalie/Cowgirl's Song (Medley) (1978) (20)
Waiting For An Alibi (1979) (9)
Do Anything You Want To Do (1979) (14) (81)
Sarah (1979) (24)
A Merry Jingle (1979) (28)
Chinatown (1980) (21)
Killer On The Loose (1980) (10)
Trouble Boys (1981) (53)
Hollywood (Down On Your Luck) (1982) (53)
Cold Sweat (1983) (27)
Thunder and Lightning) (1983) (39)
The Sun Goes Down (1983) (52)
Dedication (1991) (35)
The Boys Are Back In Town (re-issue) (1991) (63)
As you can see they had their biggest singles success in the 70's.
Thin Lizzy Songs List – Studio Albums
Thin Lizzy had 8 studio albums that made the charts. To make this list more in depth for Thin Lizzy fans I will list all their studio albums. I will name the album, year released and position reached in the charts in the UK and US if applicable.
Thin Lizzy (1971)
Shades Of A Blue Orphanage (1972)
Vagabonds Of The Western World (1973)
Nightlife (1974)
Fighting (1975) (60)
Jailbreak (1976) (10) (18)
Johnny The Fox (1976) (11) (52)
Bad Reputation (1977) (4) (39)
Black Rose: A Rock Legend (1979) (2) (81)
Chinatown (1980) (7) (120)
Renegade (1981) (38) (157)
Thunder And Lightning (1982) (4) (159)
Thin Lizzy Live And Dangerous
Thin Lizzy had 7 other albums that reached the charts, some live, extended play and greatest hits. I will name album, year released and chart position reached in the UK and if applicable the US.
Live and Dangerous (1978) (2) (84)
The Adventures Of Thin Lizzy (1981) (6)
Killers Live (EP) (1981) (19)
Life (1983) (29) (185)
The Best Soldiers Of Fortune (1987) (55)
Dedication: The Very Best Of Thin Lizzy (1991) (8)
Greatest Hits (2004) (3)
More Lizzy History
Carrying on from above, after the success of the Jailbreak album and The Boys Are Back In Town single. Following the successes of the album and single Thin Lizzy embarked on a sellout UK tour. The album released as they were touring Johnny The Fox went gold and the single Don't Believe A Word peaked at no. 12 in the UK charts
These successes still didn't bring stability to the band. Hours before they were due to fly to America for a tour, Brian Robertson got involved in a fight and severed an artery in his hand, which meant he couldn't play guitar of course. So with a lot of bad feeling the tour was canceled.
Shortly after Queen offered the band the chance to support them on their American tour. They went with Gary Moore (who was now with jazz-rockers Colosseum II) stepping in again this time for Robertson. The tour was a great success but Robertson announced he would not be returning to the band.
Gary Moore went back to Colosseum II, which left Lynott, Downy and Gorham to start recording the album Bad Reputation as a three-piece band. Robertson did rejoin the band during the recording of the album, despite his announcement about leaving. He stayed with them until August 1978 when he left to form Wild Horses. His last recorded appearance was on the Live And Dangerous album which went platinum in the UK.
Gary Moore joined Thin Lizzy for a 3rd time after Robertson's departure, he actually stayed long enough this time to record an album with the band Black Rose: A Rock Legend in 1979. Moore made a substantial writing contribution to the album.
The upheavals in the band continued with Gary Moore being sacked half-way through a tour when he failed to turn up for two gigs, which caused one to be canceled. Surprisingly Midge Ure from Ultravox was asked to step in. He played some guitar but mainly played keyboards. This was a temporary arrangement though he did finish the US tour and also went to Japan with them.
Darren Wharton joined as a full time keyboard player in 1980, also in 1980 guitarist Snowy White joined after Phil Lynott saw him playing with Pink Floyd at The Wall concert. Phil was so impressed he asked him to join Thin Lizzy. It turned out Snowy White who was warmly welcomed to the band was not the type of guitarist they needed to play in the fiery Thin Lizzy style.
He was replaced by a young guitarist called John Sykes. Despite this infusion of new blood Thin Lizzy decided to split in 1983. Phil Lynott said he was the most reluctant to split but said the band felt it had become a charade. The facts were, they had stopped getting into the charts, it had all become a bit routine and they felt pressure to play the old songs all the time.
They did a farewell tour which found them on top form for the first time in years, their official last gig was at the Reading festival in 1983.
Sadly Phil Lynott died in hospital in Salisbury, Wiltshire, on 4 January 1986, aged 36, having suffered from internal abscesses, pneumonia and septicemia, brought on by his drug dependency, which led to multiple organ failure.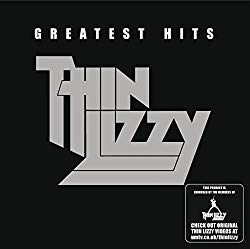 I hope you have enjoyed this look at Thin Lizzy and it brought back great memories for you. It did for me as I went to see Slade in concert in the 70's, the 2 support acts were unknown acts. I found out years later it was Thin Lizzy and Suzie Quatro. They had not had a hit yet so we didn't know them.
If you get a minute could you please pop over to my Facebook Page and join us. I plan to build this page this year as I have more time on my hands since retiring.  I am trying to get people to share their favourite 70s music.  As you know we do not all like the same songs and it would be great to hear page members favourite 70s songs.  I hope to see you there soon.
Thanks For Visiting Today. Make sure you come back as I build the site, leave a comment below if there is any singer or group you think I should add to the site.
Frank
frank@musicofthe70s.co.uk