Step back in time to the golden era of music, where the sound of electric guitars and soulful melodies captivated an entire generation. Welcome to the world of 70s rock music, a time when the airwaves were ruled by legends like Queen, Slade and The Sweet.
Close your eyes and let the nostalgic tunes transport you to a time of unrivaled passion and artistic expression. In this blog post, we'll take a trip down memory lane, exploring the iconic songs, rebellious spirit, and everlasting impact of 70s rock music. So grab your air guitar, turn up the volume, and let's embark on a journey through the unforgettable melodies of the past.
70's Rock Music
When it comes to 70s rock music the choice seems endless and the thought of whittling it down to my favourite 20 songs was a daunting task. I put these songs in no particular order as I love them all. I will also give you a bit of info on each band so you can check them out if you like the sound of their music.
70s Rock Music – Queen
Everybody knows about Queen, probably the best band ever to come from the UK in my opinion. They had Freddie Mercury on vocals and piano, Brian May on Guitar and vocals, Roger Taylor on drums and vocals and John Deacon on bass guitar.
They had a string of hits in the 70's with there most famous hit Bohemian Rhapsody topping the charts here in the UK for 9 weeks in November 1975 through to late January 1976.
Now that song would be an obvious choice as my top song from Queen but I think people may have heard it too often so I have chosen another song which may be lesser known but is still a great rock song. It was their first hit in the UK reaching number 10 in the charts in March 1974.
Seven Seas Of Rhye
The Who
The ultimate rock band and still doing concerts to this day, although a couple of the original members have sadly passed away. They had Roger Daltry on vocals, Pete Townshend on guitar and vocals, John Entwistle on bass guitar and Keith Moon on drums. This song reached number 9 in 1971, enjoy.
Won't Get Fooled Again
70s Rock Music – The Jam
The Jam appeared at the end of the 70's and become one of the top bands in the late seventies early eighties, they had 4 number one singles hits in the UK. They had Paul Weller on vocals, Bruce Foxton on guitar and Rick Buckler on drums. This song only reached number 15 in the charts here in 1978, I can't believe that it was a belter of a song.
Down In The Tube Station At Midnight
Golden Earring
This song by Golden Earring was a one hit wonder in the UK. They were a Dutch band and this song reached number 7 in the UK charts.
Radar Love 
Sweet

Sweet had many hits in the seventies including the one below which peaked at number 2 in the UK. Others songs include Wig Wam Bam, Hellraiser, Teenage Rampage, Fox On The Run and a few more besides. Sweet had Brian Connelly on vocals, Andy Scott on guitar, Steve Priest on bass and Mick Tucker on drums. I love this one.
Ballroom Blitz
70s Rock Music – Slade

Slade took 6 songs to number 1 during the 70's. The band consisted of Noddy Holder on vocals, Dave Hill on guitar, Jim Lea on bass and Don Powell on drums. Some of these songs were proper rock songs as we say were I live. Enjoy this one.
Cum On Feel The Noize
70s Rock Music – David Bowie

David Bowie, it goes without was one of the biggest rock stars ever. He had 16 top 20 single hits in the 70's in the UK. David deserves a post all on his own and I will do that soon. But in the meantime listen to this cracker.
The Jean Genie
70s Rock Music – Free

Free were an english rock band whose members were Paul Rodgers on vocals, Paul Kossoff on guitar, Andy Fraser on bass and Simon Kirke on drums. They had 4 top 20 hits in the early 70's. My Brother Jake(4), Little Bit Of Love(13), Wishing Well(7) and this song that reached number 2.
All Right Now 
Sparks

Sparks was made up of brothers Ron and Russell Mael two strange guys form America. Going to see Sparks was my first real concert at the Odeon in Edinburgh. I was young at the time I do remember it was a great night.
They had 6 top 20 hits Amateur Hour in 1974 got to number 7, Never Turn Your Back On Mother Earth reached number 13, Something For The Girl With Everything got to number 17 in 1975, The Number One Song In Heaven made number 14 in 1979, Beat The Clock also in 1979 reached number 10.
This song was their biggest hit in 1874 reaching the 2nd spot.
This Town Ain't Big Enough For Both Of Us
The Rolling Stones

The Rolling Stones had 8 number ones in the 60's, there last being Honky Tonk Women in 1969 which was strangely enough their last ever chart topper. in the 70's though they had another string of hits but none reached that covetted top spot. They had 6 top 20 singles in this decade with this song peaking at number 2.
Brown Sugar
Bachman Turner Overdrive

This band were another one hit wonder band but I absolutely love this song, they did have a minor hit with Roll On Down The Highway in 1975 which reached number 22 but this song just missed out on the top spot by reaching number 2 in 1974.
You Ain't Seen Nothing Yet
T.Rex

T.Rex were another massive band in the uk during the 70's with 15 top 20 hits. I think T.Rex also deserve a post of their own so I will let you listen to another great tune and please come back again to see their post when I do it.
Get It On
Mud
Another of my favourite bands who had 14 top 20 singles in the UK from Crazy in 1973 to Lean On Me in 1976. But to me this is their biggest and best hit. i saw Mud in concert, but it was when they were older and Les Gray the singer was not in good health. He had to do the concert sat down, sad to see but he still sounded great and yes it was another great night. Also on the bill were Alvin Stardust and the Glitter Band.
Tiger Feet
70s Rock Music – Status Quo

Status Quo had 16 top 40 singles in this decade with 1 number one called Down Down the song I have chosen is Caroline just because I like it. It reached number 5 in 1973.
Caroline
70s Rock Music – Gary Moore

Parisienne Walkways
Gary Moore  was born on 4th April 1952 in Northern Ireland, he sadly passed away on 6th Febuary 2011 in Spain form a heart attack. But as they say his music lives on. This is my favourite Gary Moore song with Phil Lynott on vocals. His Ballads And Blues album is still one I listen to often.
Hawkwind

Silver Machine
I remember buying this single in 1972 when it was released, it reached number 3 in the charts here in the UK. I went with a friend to see them in concert years later, it was not my type of music and guess what they didn't play Silver Machine:( I still love this song though.
70s Rock Music – Thin Lizzy

The Boys Are Back In Town
I find this track just makes you want to dance and sing along. It's just a catchy tune. I also like a lot of other Thin Lizzy songs particularly Whiskey In The Jar which I will feature in another post. Phil Lynott sadly passed away in 1986 but the group has continued in various forms over the years.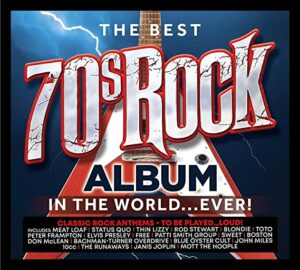 Manfred Mann's Earth Band

Blinded By The Light
This song written by Bruce Springsteen by the way is a cracking tune. If you have not heard it before give a listen it is well worth it. The original line-up consisted of Mick Rogers (guitar and vocals), Manfred Mann (organ, synthesizer and vocals), Colin Pattenden (bass guitar) and Chris Slade (drums and vocals).
70s Rock Music – E.L.O.

Evil Woman
Another prolific band in the 70's, they had 15 top 20 hits and Evil Woman reached number 10 in the charts. They had Roy Wood and Jeff Lynne as two of the founding members, after Roy Wood left in 1972 Jeff Lynne took over as band leader and wrote virtually all of their original material.
70s Rock Music – Paul McCartney and Wings

Jet
This track was taken from the Band On The Run album which featured a still talked about album cover. Can you remember who was on the cover without looking it up? Leave a comment below and see if you are right.
70s Rock Music – Cozy Powell

Dance With The Devil
I know this is the 21st song on the list but I thought I would throw in this song by legendery drummer Cozy Powell who is sadly no longer with us. He passed a way on the 5th April 1998. This is what I call drumming.
If you get a minute could you please pop over to my Facebook Page and join us. I plan to build this page this year as I have more time on my hands since retiring.  I am trying to get people to share their favourite 70s music.  As you know we do not all like the same songs and it would be great to hear page members favourite 70s songs.  I hope to see you there soon.
Thanks For Visiting Today. Make sure you come back as I build the site, leave a comment below if there is any singer or group you think I should add to the site.
Frank
frank@musicofthe70s.co.uk