Before we look at Tom Jones albums here is a bit of info about Tom. Sir Tom Jones born Thomas John Woodward on 7th June 1940 in Pontypridd, Wales.  He married his wife Linda at the age of 17 and remained married to her for the rest of her life.  Below I am going to have a look at his early work in the 60s and of course the 70s.
Tom Jones Albums and Singles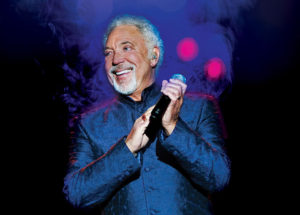 Tom Jones In The 60s
Tom first exploded into the charts in 1965 with It's Not Unusual which reached number 1 in the charts. Below is a list of his singles that made the top 40 in the UK. I will name the song, the year and chart position reached in the UK.
Singles
It's Not Unusual (1965) (1)
Once Upon A Time (1965) (32)
With These Hands (1965) (13)
What's New Pussycat (1965) (11)
Thunderball (1966) (35)
Once There Was A Time/Not Responsible (1966) (18)
Green Green Grass Of Home (1966) (1)
Detroit City (1967) (8)
Funny Familiar Forgotten Feeling (1967) (7)
I'll Never Fall In Love Again (1967) (2)
I'm Coming Home (1967) (2)
Delilah (1968) (2)
Help Yourself (1968) (5)
A Minute Of Your Time (1968) (14)
Love Me Tonight (1969) (9)
Without Love (1969) (10)
Albums
Along Came Jones (1965) (11)
From The Heart (1966) (23)
Green Green Frass Of Home (1967) (3)
Tom Jones Live! At The Talk Of The Town (1967) (6)
13 Smash Hits (1967) (5)
Delilah (1968) (1)
Help Yourself (1968) (4)
This Is Tom Jones (1969)
Tom Jones Live In Las Vegas (1969) (2)
Tom Jones In The 70s
Singles
Daughter Of Darkness (1970) (5)
I (Who Have Nothing) (1970) (16)
She's A Lady (1971) (13)
Till (1971) (2)
The Young New Mexican Puppeteer (1972) (6)
Letter To Lucille (1973) (31)
Something 'Bout You Baby I Like (1974) (36)
Say You'll Stay Until Tomorrow (1977) (40)
Tom Jones Albums
Tom (1970) (4)
I Who Have Nothing (1970) (10)
She's A Lady (1971) (9)
Tom Jones Live At Caesars Palace (1971) (27)
Tom Jones Close Up (1972) (17)
The Body And Soul Of Tom Jones (1973) (31)
Tom Jones' Greatest Hits (1973) (15)
20 Greatest Hits: The Tenth Anniversary Album Of Tom Jones (1975) (1)
I'm Coming Home – 20 Of The Finest Songs Of Tom Jones (1978) (12)
Tom Jones Albums – After The 70s
Tom has continued to have hit singles over the years with 10 more top 20 hit singles and 8 top 20 albums.
Singles.
A Boy From Nowhere (1987) (2)
It's Not Unusual (re-issue) (1987) (17)
Kiss (Art Of Noise feat. Tom Jones) (1988) (5)
All You Need Is Love (1993) (19)
If I Only Knew (1994) (11)
Burning Down The House (with The Cardigans) (1999) (7)
Baby, It's Cold Outside (with Cerys Matthews) (1999) (17)
Mama Told Me Not To Come (with The Stereophonics) (2000) (4)
Sex Bomb (with Mousse T) (2000) (3)
Islands In The Stream ( with Rob Brydon, Ruth Jones and Robin Gibb) (2009) (1)
Tom Jones Albums
The Greatest Hits Of Tom Jones (1987) (16)
The Complete Tom Jones (1992) (8)
Reload (1999) (1)
Greatest Hits (2003) (2)
Tom Jones & Jools Holland (2004) (5)
Praise & Blame (2010) (2)
Spirit In The Room (2012) (8)
Long Lost Suitcase (2015) (17)
Tom At 80
As you probably know Tom was 80 in 2020 and he has found a new audience as a judge in the UK version of the voice. His stories of the people he has sung with and met always leave the other judges open mouthed with disbelief. He has been a very popular judge and is respected by everyone in the business.
I hope you enjoyed this brief look at Tom Jones albums and singles.
If you get a minute could you please pop over to my Facebook Page and join us. I plan to build this page this year as I have more time on my hands since retiring.  I am trying to get people to share their favourite 70s music.  As you know we do not all like the same songs and it would be great to hear page members favourite 70s songs.  I hope to see you there soon.
Thanks For Visiting Today. Make sure you come back as I build the site, leave a comment below if there is any singer or group you think I should add to the site.
Frank
frank@musicofthe70s.co.uk