Thanks for visiting today to take a look at this post all about Northern Soul songs. everyone has their favourite song of course, mine is Frank Wilson's version of Do I Love You. I heard Bruce Springsteen singing it the other day, it sounded ok but not a patch on Frank Wilson.
Northern Soul Songs
The term Northern Soul is said to have come from a soul record collector named Dave Godin who ran a shop called Soul City in Covent Garden. He said in an interview that he noticed that a lot of northern football fans who were in London to see their teams play, would come into the shop asking for obscure soul records. They were not interested in the songs in the latest black american chart. So, he told staff in the shop to play them what they wanted, Northern Soul.
Northern Soul Origins
Northern Soul is a genre of music that emerged in the mid-1960s in the UK and is one of the most influential music movements of modern times. Northern Soul originated as a spin-off of the mod movement in the UK when DJs began spinning rare soul records from the US at all-night dance parties.
The genre fuses elements of American soul music with British rock, psychedelia and influences from Caribbean music. Northern Soul is known for its fast-tempo, strong beat and loud horns, as well as its melodic samples, which are woven into complex, soulful arrangements.
Northern Soul Fan Base
One of the most famous aspects of Northern Soul is its cult-like following. It has a deep-rooted fan base that actively collects rare records and attends specialist events dedicated to the genre. These events, which have become more popular in recent years, focus on the appreciation of Northern Soul and its associated sounds.
Northern Soul's legacy of social and musical evolution has made a lasting impact on the wider music industry. It was the precursor to genres such as Balearic Beat, UK Garage and House music. It also had a major influence on pop stars such as David Bowie, Morrissey and the British synth-pop group the Human League.
Despite its popularity in modern times, Northern Soul music still holds tight to its roots. It carries a spirit of nostalgia; a culture of collectivism and appreciation for classic soul music that is truly timeless.
You still get Northern Soul all dayers in the UK today. I found a facebook group you may be interested in that lets people upload their events. You can check out if there are any in your area.
There are affiliate links in this post, if you click the link and make a purchase I will make a small commission at no cost to you. This helps towards paying the costs of running this site. Thank You. See affiliate disclosure.
Northern Soul Songs
So let's have a look at some Northern Soul songs. In no particular order let's go.
Frank Wilson – Do I Love You
Dobie Gray – Out On The Floor
Wayne Gibson – Under My Thumb
Benny Troy – I Wanna Give You Tomorrow
Yvonne Baker – You Didn`t Say a Word
The Tymes – Here She Comes
Dina Carroll – Ain't No Man
The Tomangoes – I Really Love You
Terry Callier – Ordinary Joe
Tobi Legend – Time Will Pass You By
Eloise Laws – Love Factory
Gloria Jones – Tainted Love
Yum Yums – Gonna Be a Big Thing
Tami Lynn – I'm Gonna Run Away From You
The Tams – Be Young Be Foolish Be Happy
Donnie Elbert – I Can't Help Myself
Gloria Jones – Tainted Love
Archie Bell & The Drells – Here I Go Again
The Carstairs – It Really Hurts Me Girl
Dean Parrish – I'm On My Way
Here is a playlist I made on youtube with the above songs. Well worth a listen.
Northern Soul Songs
That is a great list of songs don't you think? Leave a comment below and let me know your favourite Northern Soul songs are. Thanks for visiting today.
Whilst doing my research for this post I found a 4 cd collection on Amazon. I did a post on it, I listed all the tracks so you may want to check it out. Click here for the review.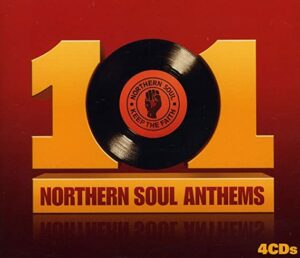 There are affiliate links in this post, if you click the link and make a purchase I will make a small commission at no cost to you. This helps towards paying the costs of running this site. Thank You. See affiliate disclosure.
If you get a minute could you please pop over to my Facebook Page and join us. I plan to build this page this year as I have more time on my hands since retiring.  I am trying to get people to share their favourite 70s music.  As you know we do not all like the same songs and it would be great to hear page members favourite 70s songs.  I hope to see you there soon.
Thanks For Visiting Today. Make sure you come back as I build the site, leave a comment below if there is any singer or group you think I should add to the site.
Frank
frank@musicofthe70s.co.uk